SEMA Show 2021 Preview – The SEMA Show 2021 is LIVE this year and is taking every precaution in following state and local requirements which is changing by the week. Be sure to follow SEMA Show 2021 for updated information.
The event kicks off at the Las Vegas Convention Center, Las Vegas, Nevada from November 2-5. If you are not familiar with SEMA, it is the world's premier automotive trade show, representing the $47.8 billion automotive aftermarket industry. Bringing together the vast array of automotive genres, from hot rods and off-roads, to mobile electronics and collision repair.
As of September, 24, the SEMA show currently has 1,300 exhibiting companies and 30,000 buyers registered to attend to get a sneak peek of the newest automotive products debut. The get a glimpse as to who is attending, visit the 2021 participating manufacturer list, here.
SEMA Show 2021 Preview – New Products Showcase
SEMA 2021 is offering many show features to attract everyone from exhibitors to buyers as well an creating an incentive for new and recently introduced automotive-related products that are pitched in the industry's most prestigious product development competition during the SEMA Show to a panel of iconic judges, known at the SEMA LAUNCH PAD.
Location: Westgate Paradise Event Center
Date: Thursday 11/4
Winners announced at SEMA Awards Banquet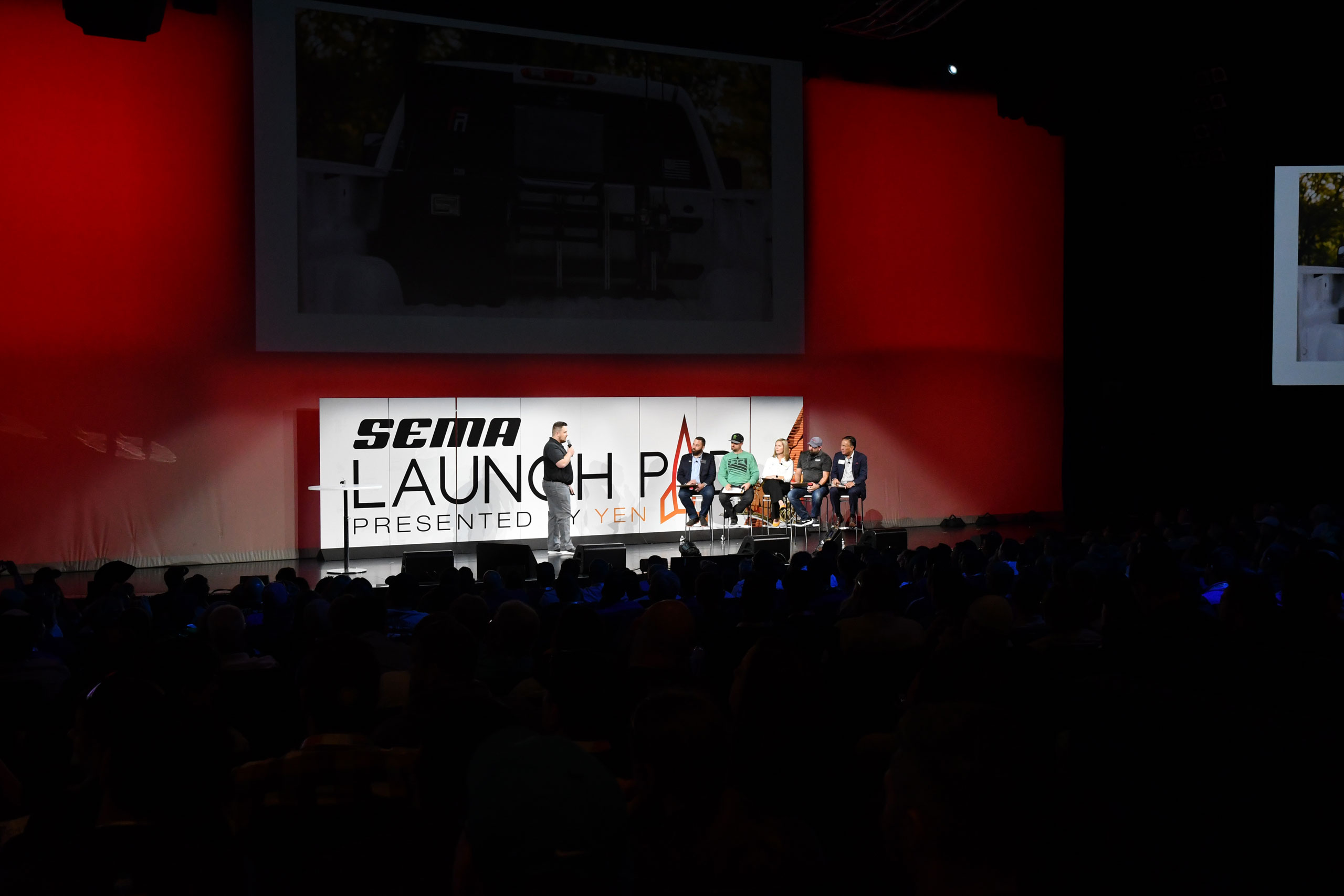 With an expanded prize package and increased benefits to applicants, the 9th annual SEMA Launch Pad competition included a record-high number of applications from entrepreneurs of new automotive-related products.
Fifteen semi-finalists have been announced and will now advance onto the next round. Top five candidates will be selected later in the year to pitch their business ideas at the 2021 SEMA Show in front of a panel of iconic industry judges. (source: https://sites.sema.org/sema_launchpad/)
SEMA 2021 Celebrity Appearances
Find out where and when your favorite celebrities are appearing at the SEMA Show. Don't miss your chance to get up close and get that autograph or picture. Check out the celebrity appearance schedule, here.
Chip Foose Design Experience
See sixty of Chip Foose's most famous one-of-a-kind automotive designs and sketches along with 20 of his most famous custom vehicle creations, including RIDLER Winners and "Overhaulin'" builds!
Location: LVCC North Hall
SEMA Show 2021 Preview – Hoonigan Burnyard Bash
Hoonigan is celebrating its 10-year anniversary with SEMA bringing its wildly popular brand of automotive mayhem to the 2021 SEMA Show. Its daily Burnyard Bash shows will transform the LVCC Silver Lot into a faithful recreation of Hoonigan's iconic Burnyard in California–showcasing the brand's signature antics, consisting of burnouts, donuts and more.
Location: LVCC Silver Lot
SEMA Ignited
SEMA Show culminates at SEMA Ignited, the official after-party, which launches immediately after the Show ends. The event takes place in the Convention Center Platinum Lot —just a short walk away—and is free to all credentialed Show attendees. Introduced in 2014, the annual event is also open to the general public, giving consumers the chance to glimpse some of the vehicles and excitement from the world-famous trade-only SEMA Show. The party is a great way for Show goers to unwind from the week while enjoying a night of food, entertainment, drifting demonstrations and more. Gates open at 3:00 p.m., and your SEMA Show badge serves as your free ticket. Visit SEMA Ignited, here.
SEMA Cruise
Vehicles from the 2021 SEMA Show begin parading out of the Convention Center at Show close—4:00 p.m.—on Friday, thrilling thousands of fans within grandstands along the route. Watch more than 1,000 vehicles as they parade toward the West Hall Parking Lot and SEMA Ignited—the official after-party of the SEMA Show. As the festivities include giveaways and entertainment, the Cruise has become one of the most anticipated Show events and is open for all to attend.
…and a ton of other events going on throughout the week inside the LVCC and surrounding areas. It's always a great time and there's so much to do.
As time nears and the schedule becomes more concrete, we will include additional updates here, stay tuned.
To check out highlights from past SEMA Show events, check out our website CarShowz.com SEMA events, section, here.
CSZ Staff
The Automotive Event Source! Bringing to you car shows from the East to the West, North to the South. Car Show coverage, news and more. A small team that share the same passion for automobiles!